RACHEL'S LATE HOURS NIGHTCLUB

Created 10/1/2009
      by, Ms. Freaky
If you're looking for a bar opened late hours, then Rachel's
Nightclub
will blow you away. Famous for being part gentlemen's club, part restaurant, this West Palm Beach club is the hot spot for mingling with sinfully attractive exotic dancers and hot girls.
This wild
nightclub
offers a variety of upbeat dance music, hot women, drink specials, and of course, great food.  Borrowing concepts from some of the hottest clubs in L.A., and Vegas, Rachel's doesn't hold back on entertainment. On any given night, the
bar
is filled with professional athletes, Hollywood celebrities and of course, friendly
strippers
.
Perfect Bachelor Party Nightclub

With
Rachel's
nightclub, throwing a
bachelor party
is as simple as setting the date. If you're the best man, I suggest taking in the clubs of sunny
Palm Beach
, and taking the groom to Rachel's for some late hours fun. Don't take the party anywhere else to eat, because this nightclubs premium feature is its out of this world
steakhouse
. I truly enjoy seeing the groom dragged on stage, and watching the girls relentlessly spank his ass. Make sure to ask about their affordable bachelor party packages, as well as special drink prices and dinner menu.
Rachel's isn't like most nightclubs, so don't expect to see a huge dance floor with crazy laser lights. On the other hand, if you like watching young, sexy girls dancing, Rachel's won't disappoint. West Palm Beach has the perfect mix of bars, taverns and watering holes. I like to think of Rachel's as a slice of the Florida dream.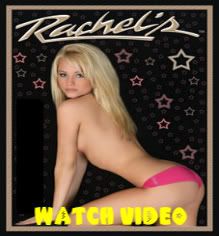 Whether it's
adult club
entertainment,
nightclub
action, or good old fashion drinking, the atmosphere at Rachel's Florida will keep you coming back for more. There are times when I feel almost hypnotized by the sheer number of hotties that party late hours into the night.  If your looking for places to party in Palm Beach. press the  "
nightlife button."
You're bound to find a plethora of fun places to drink while visiting south Florida. I like to head over to Cheetah's or Goldfinger nightclub early, before capping things off at Rachel's. My favorite thing about Rachel's is both men and women are welcomed to his hot party spot. I like the fact there isn't a bunch of intimidating bouncers at this
gentlemen's club
.
For the most part, the staff at this nightclub is friendly, courteous, and very accommodating. The fantasy shows at Rachel's are entertaining, comfortable and leave you with a wonderful feeling.

Nothing beats having champagne in the VIP rooms and enjoying a dance by your own private stripper. Rachel's nightclub is opened late night, and located at 2905 45 St, West Palm Beach, Fl, 33407,
map
.
©2009 -
Contact
Rachel's for more strip club info.
Have more Florida nightclub info?
Emai
l Ms. Freaky
Great Adult Club for Tourists Visiting Florida